"The wait is nearly over…"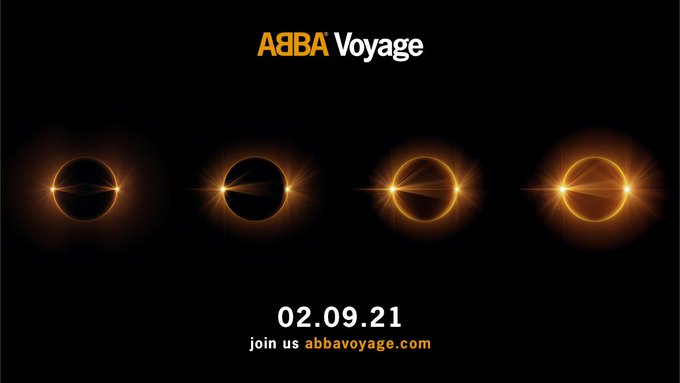 UPDATED 2 September: On Thursday 26 August 2021, a website suddenly appeared at abbavoyage.com, with the date 2 September 2021, inviting visitors to "Register your interest to be the first in line to hear more about ABBA Voyage".
The widespread assumption is that ABBA Voyage is the long-awaited stage presentation featuring digital avatars of the four ABBA members, which was first announced in October 2016, and the release of the new ABBA songs recorded in 2017 and announced to a surprised world in April 2018.
ABBA Voyage is the ideal title for what promises to be a multimedia event commemorating ABBA's history from the beginning to today. The title works as a show, as an album title, and potentially more applications. The imagery is stunning in its simplicity, and versatile to be used in countless formats.
What we know so far:
There will be a global launch event on Thursday 2 September at 18.45 (6.45 pm) Central European Summer Time. Public events have been announced at Gröna Lund in Stockholm, Rathausplatz in Vienna, the nhow Hotel in Berlin, and Rumsey Playfield in Central Park, New York, with limited attendees that must register due to Covid-19 restrictions. The Stockholm and Berlin event appear to be invitation only, though tickets for the Berlin event are available through competitions. There are rumours of an invitation-only event in London, but nothing confirmed. Ludvig Andersson (Benny's son) has been in London since the day of the reveal, while Benny and Björn were seen arriving in London on Monday 1 September.
A quote that seems to be an extract from a media release says that ABBA Voyage will be "celebrated […] around the globe – from London to New York, Sydney and Berlin!" Thursday's event is said to be "a historic day that celebrates the past and future of ABBA." The Livestream link on YouTube was posted 1 September.
Billboards have been spotted at several locations in London and Amsterdam.
Sleuthful ABBA fans have discovered the development application for a purpose-built semi-permanent theatre currently under construction in East London, close to the 2012 Olympic site. Unconfirmed media reports say the show will open here in May 2022.
A post on a music industry forum listing new UK single releases on 3 September includes an entry "Abba -TBA". How reliable this list is isn't known, but other singles on the list have already been announced.
What will happen on Thursday? Will we see the ABBA avatars? Will we hear any new music? Will the new songs be released?
A message on the ABBA Voyage Twitter page declares "All will be revealed next Thursday".
Register for the newsletter at abbavoyage.com. Follow ABBA Voyage on Facebook, Instagram, Twitter, YouTube, and TikTok #ABBAVoyage
Thanks to fans on Facebook groups ABBA-As Good As New, ABBA Intermezzo, ABBA Newsflash, ABBA – Said And Done, ABBAtalk, ABBA Voyage News, A.B.B.A : The Music Still Goes On And On And On, Official International ABBA Fan Club.